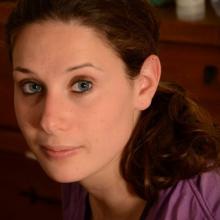 I work with the student affairs team in Molecular and Cell Biology and with the undergraduate team at the Haas School of Business on the newly-launched Biology+Business Program. As Program Manager and the sole employee dedicated to this new program, my focus has been centered around program outreach and academic advising. When I'm not meeting with students and learning from all the amazing folks in MCB and Haas, you'll find me working on program policies and procedures, strategizing corporate partnerships, drafting pages for our forthcoming website, pouring over historical enrollment data, and emailing everyone willing to partner along the way. 
I have BAs in English Literature and International Social Justice Studies from Virginia Commonwealth University, and a research MA in Eighteenth Century Studies from The University of York in beautiful York, England. Before coming to UC Berkeley, I worked in administration, operations, and project management at Virginia Commonwealth University, Golden Gate University, and a small biotech startup in San Francisco. In my free time, you're likely to find me outside hiking and camping, or at home cooking, baking, knitting, or reading Gothic novels.
4 Quick Questions:
What motivates you to get out of bed and come to campus each day? Coffee! I love coffee! I also pet a lot of dogs on my walk to campus, which is a great way to start the day.
What is your favorite spot in Berkeley? The mushroom aisle at Monterey Market
What do you like best about working at Berkeley? I love working with and learning from my colleagues here, and the students keep me on my toes and impress me every day.
If you could do it all again what job would you rather have? Food or travel writer – but I'm pretty content here in higher ed. 
4 Quick Facts:
Hometown? Franklin, PA (very small town outside of Pittsburgh) 
Cat or dog? Both – but if I had to choose, I'd pick dogs, because they've got corgis on their team
Favorite TV show? Buffy the Vampire Slayer
Dream vacation? Adventuring through New Zealand, Scandinavia, or the Scottish Highlands