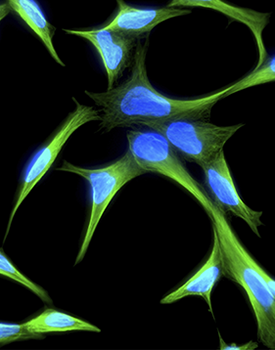 We're open!
Please check out our new SOPs here
About
The Cell Culture Facility, located in 336 Barker Hall, supports research by providing cell cultures (mammalian and insect), media, supplies and expertise on a recharge basis for more than 40 different laboratories on and off the main campus. The Facility provides cell cultures for researchers to take to their labs for experiments, provides media and materials for checkout, and also allows use of laminar flow hoods, incubators and microscope for researchers who are using cells provided by the Facility, to use on site. Please contact us by email at cellculture@berkeley.edu or by phone at 510-664-4053.
Ordering
Services
Expert consultation for researchers regarding cell culture needs, media, and experimental design
Tested media, serum, and cell lines at exceptionally low prices
Large scale production of cells
Expansion and harvesting of hybridoma lines
Cryopreservation of cell lines
Cell Authentication by STR analysis provided in conjunction with the DNA Sequencing Facility (More Info)
Mycoplasma screeening
Use of 2 laminar flow hoods for mammalian or insect cell manipulation
Contract work for outside companies
Allen Institute Human Induced Pluripotent Stem Cells (iPSC)
The UC Berkeley Cell Culture Facility is excited to offer many fluorescently tagged hiPSC lines created by the Allen Institute. We will also stock supplies for culturing these cells including matrigel, media, rock inhibitor.
Please make sure your lab has BSL2 approval on your BUA and that you have SCRO (stem cell research oversight committee) approval before placing any orders (see https://rac.berkeley.edu/scro.html).
Please refer to this website (http://www.allencell.org/cell-catalog.html) for additional information regarding certificate of analysis, images, movies and protocols.
Please refer to this protocol as a guideline for culturing and to these images for reference when culturing these lines, and refer to this video for culturing technique. 
Synthego Gene Editing of IPSC lines
A partnership between the UC Berkeley Cell Culture Facility and Synthego has been established in order to provide researchers at UC Berkeley with greater access to Synthego's iPSC Engineering services.
Please click below to place an order:
CRISPR Cell Line Repository
Published CRISPR interference, activation, or knockout cell lines may be provided upon request from the Cell Culture Facility at UC Berkeley. To learn more and get up-to-date information on available lines, please contact Alison Killilea at ankillilea@berkeley.edu.
A list of available cell lines is available here:
Protocols
Mycoplasma Screening
Insect Cell Protocols
MTT Assay
Cell Culture Protocols
Available Cell Lines and Media
List of Cell Lines (XLSX)
List of Media (PDF)
If you don't find the cell line you're interested in please email ankillilea@berkeley.edu.
If you order cells from ATCC, you can deposit them with the Cell Culture Facility. We can expand your cell line and store multiple vials in our Facility.
If you want to deposit a non-ATCC cell line in our facility please refer to the Protocols page of our website and review the Mycoplasma Screening protocol. If you can provide the Facility with a fixed, mycoplasma free sample on a coverslip we will gladly accept your line.
UCB Core Facilities for Analyzing Your Cells
Publications and Grants
Publications incorporating core services should credit the UCB Cell Culture Facility which is supported by The University of California Berkeley. A resource statement for grant applications is available below:
The Cell Culture Facility provides mycoplasma testing, cell authentication using short tandem repeat analysis, growing of cultured mammalian and insect cells, the entire Allen Institute for Cell Science genome-engineered human iPS cell collection and cell storage services. In addition, the Facility trains users in cell culture techniques and provides sterile hood facilities for users. Major equipment includes five biosafety cabinets; two phase contrast microscopes, one fluorescence microscope seven CO2 incubators, one mixed gas incubator and two incubators for insect cell lines; 2 incubators for large scale growth of cells using roller bottles or spinner flasks; cold storage facilities consisting of cryogenic storage dewars, one ultra low freezer, four -15° C freezers and 2 refrigerators and a cold room for storage. The cell culture facility stocks cell culture reagents including media, sera, additives, and other reagents. The core is located in three rooms in Barker Hall with easy access for most researchers in UCB.
Rates
Our hourly rate is $64 although most orders can be completed in 15 minutes and charged $16 (ie 6-well plate orders, T-75 orders, 10cm dish orders etc).