IB Curriculum and Scheduling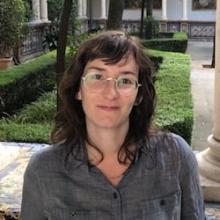 Q. What you do in your role?

A. I am the Curriculum Planner for the Integrative Biology department. I'm involved in a wide range of student services duties and responsibilities, including providing assistance to the Chair, Curriculum Committee, faculty, advisors, and departmental management in the areas of curriculum planning and course scheduling.
Q. How did you get to campus?

A. Before coming to UC Berkeley, I worked for 10 years as the Registrar for the Counseling Psychology program at the Wright Institute. Previous to that, I worked with non-profit organizations focused on small press publishing and affordable housing. I attended UC Santa Cruz, where I double majored in Philosophy and Literature. I spend my free time reading, writing, and trying to be outside as much as possible.
Q. What motivates you to get out of bed and come to campus each day?

A. The fresh morning air on my walk to BART, and the chance to learn something new each day.
Q. What is your favorite spot in Berkeley?

A. I love wandering through the UC Botanical Garden.
Q. What do you like best about working at Berkeley?

A. Having access to the intellectual and cultural programming, and contributing to the educational environment of a renowned university.
Q. If you could do it all again what job would you rather have?

A. I'd love to be paid to be a writer, but that's a pipe dream!
Quick Facts

Hometown? The San Fernando Valley, CA
Cat or dog? Both/and
Favorite TV show? NBA
Dream vacation? Eating and drinking my way through the Japanese countryside