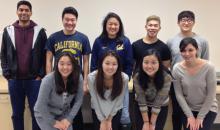 BDS Student Services Mission Statement
We partner with faculty, staff, and students to create an inclusive academic community that offers holistic advising and innovative services to support educational success.
Student services staff provide support for:
Undergraduate Affairs Office (UAO)
Academic advising, course planning, major declaration, and graduation requirements
Course registration and enrollment, academic room scheduling, curriculum management
Guidance about research opportunities, graduate & professional schools, and career opportunities
Event planning including Commencement
Academic probation and student conduct
Community Outreach: Cal Student Orientation, Cal Day, Biology Majors Fair, Honors events, weekly newsletters, etc.
Graduate Affairs Office (GAO)
Graduate advising
Course registration and enrollment
Admissions, recruitment and orientation
Graduate funding (GSI & GSR appointments, departmental awards, NIH training grants)
Monitor degree progress
Commencement
Listserves
Visit the sites linked below for details.
Undergraduate Programs
Graduate Programs