MCB Graduate Affairs Office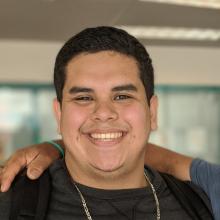 I am one of the graduate student advisors for the MCB department. In addition to being a resource for our students I will be contributing in the hiring of GSIs and helping plan department events such as orientation, commencement, and recruitment. I'm excited to be back on campus and look forward to the challenges and opportunities that come with being at UC Berkeley.
I earned my undergrad degree here at UC Berkeley and recently earned my Master's degree at San Francisco State, both in philosophy. While at SF State, I had the privilege of teaching philosophy to undergraduates with a primary focus on critical-thinking skills and ethical reasoning. One of my objectives in teaching was to give students the tools to question the world we live in and the systems we take part in. I've had the joy, and opportunity; of being able to pursue my own higher education goals and look forward to aiding our students pursue theirs here at Cal.
Facts About Me:
I like watching and discussing philosophical themes in media; such as movies, TV shows, video games, and books.
City of Birth: Turlock, CA
Favorite TV Show: Breaking Bad
Favorite Philosophical Subjects: Ethics, Nihilism, Moral Psychology